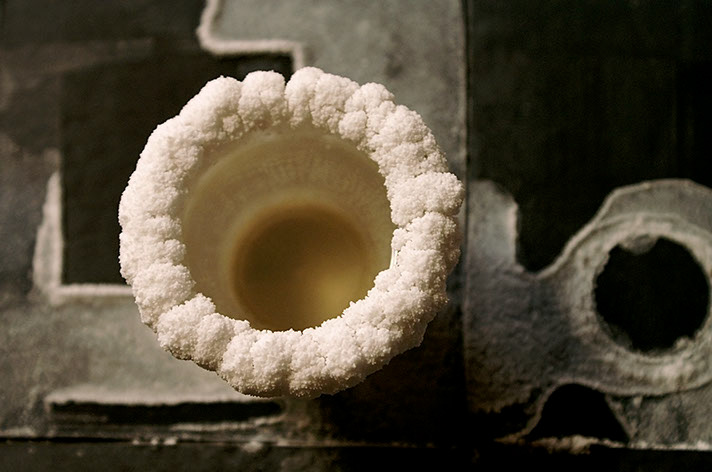 BLACK was the third of a series of installed performances, made by Anna Tregloan, that explored the moment between life and death.  A precursor to what has become know as 'Immersive Theatre' within them Anna explored her recurring theme of the multiplicity of truth and offered the audience the choice of how and in what order they choose to absorb the work.
The performance itself followed a circular structure where each performer adheres to a script and structure of their own but one which does not align or synch with the path that other performers, lights or sound might follow. 
Anna is interested in the the way that audience approach work depending on the presented context and the structure of these works bear a far stronger resemblance to a gallery setting than the theatre.  As in all of Anna's works the audience are an essential element and they complete the physical and visual picture.
What people said: 
"It's a fascinating experience, beautifully realised with a meticulous attention to detail. For all the violence at its thematic heart, Black is a work that induces a state of meditative focus that is, somehow, gently compelling;…… The attention it provokes is involuntary, dreamlike and hypnotic, its multiple layers endlessly intriguing, a little, perhaps, like looking into the flames of a dark fire, but your reverie, however free, is more directed, more focused. And productive of much more thought and response than I can describe here. Go see it for yourself."  Alison Crogan, Theatre Notes.
"Anna Tregloan's mesmeric performance installation gave us a compelling taste of what an experimental agenda can achieve."
Cameron Woodhead, 2007 wrap up, The Age.
"Tregloan is an inspired installation artist and set designer, and the piece is very much of the character of a living exhibition. The space is exquisitely designed: the audience navigates separate rooms, staircases, a balcony overlooking the main playing space—itself a beautifully crafted folding screen of glass panels which multiplies perspectives."
John Baylis, Realtime Arts, Isssue 78.
"... it's a testament to the extraordinary level of thought and craft Tregloan and her team bring to BLACK that makes it compelling theatre... There is a lot to take in - the polyphony of this piece, and its chilling harmonics, create a theatrical density not like anything else you will this this year"
Produced and presented by Anna Tregloan and Malthouse Theatre.
Awards:-
GRAA Nomination Outstanding Production (New Work),
GRAA Nomination Lighting Design (New Work)
Collaborators:- 
David Franzke, Sound.  
Paul Jackson, Lights.  
Rehearsal collaborator, Jenny Kemp
Performers:- Caroline Lee, Moira Finnucane, James Wardlaw, Martin Coutes
Photography: Jeff Busby & Anna Tregloan
2007