Anna worked with the inimitable Melissa Madden-Grey (Meow Meow) on both 'Vamp' (directed by Michael Kantor) and
'Venus and Adonis'
(directed by Marion Potts).  The first is a renegade cabaret the second a narrative poem by William Shakespeare.  The large difference between the two works demonstrate the breadth of skill and flexibility of both artists.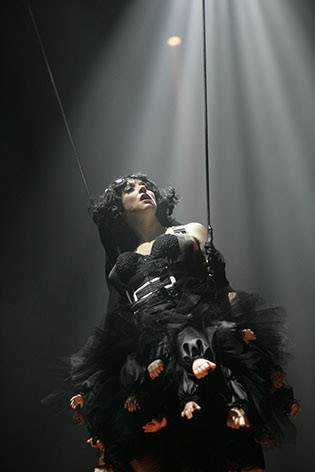 Meow Meow's Vamp was produced and presented by 
Malthouse Theatre & The Sydney Opera House.
Set and Costume Design by Anna Tregloan.

Collaborators:
Michael Kantor, Director.  
Meow Meow, Writer.  
Iain Grandage, Music.  
Paul Jackson, Lights.
Shaun Parker, Choreography.  
Daybreak Films, Video.
Photography: Jeff Busby (2008)
Awards:
GRAA Nominated Best Production (Cabaret), 
GRAA Nominated Best Performer(Cabaret), 
GRAA Nominated Innovative Use of Form (Cabaret), 
GRAA Nominated Original Songs (Cabaret)
​​​​​​​